John Sanderson Christison
A criminology expert who followed the now-discredited theories that physical features like the shape of ears determine whether people have criminal tendencies. According to some reports, Christison worked for the Luetgert defense, though his exact role is unclear. He also covered the early stages of the first Luetgert trial for the New York Herald. He had written a book in 1897 called "Crime and Criminals," largely based on a series of article he wrote for the Chicago Tribune called "Jail Types." The book's second edition, published in 1899, included appendices on the Luetgert and Christopher Merry cases.
Read about Christison's theories on crime.
Read Christison's analysis of the Merry case.
Born: March 13, 1856, Berchin, Forfarshire, Scotland.
Parents: The Rev. Robert and Martha (Sanderson) Christison.
Moved: Came to U.S. with parents in 1875.
Education: Schools in Glasgow, Wigan, Upholland, Edinburgh and London; doctor of medicine, University of City of New York, 1877.
Never married.
Work history: Assistant physician at New York City Lunatic Asylum, acting surgeon to Workhouse (prison) Blackwell's Island; acting physician at Bellevue Hospital, outdoor department; later assistant physician at Wisconsin State Hospital for Insane; then in private practice.
Organizations: Secretary of the Criminological Society of Chicago.
Books: Crime and Criminals (1898, 1901), Brain in Relation to Mind (1899), Farmer Kilroy on "Ivilooshin" (1903, under the pseudonym Kilroy Banks), The Tragedy of Chicago – a study in hypnotism, how an innocent young man was hypnotised to the gallows, denouncements by savants (1906, an account of the Richard G. Ivens murder case), Normal Mind, The Evidence of Insanity, and Drink and Disease.
Address in 1897: 215 Dearborn Avenue.
Address in 1908: 24 Walton Place.
Died: May 8, 1908.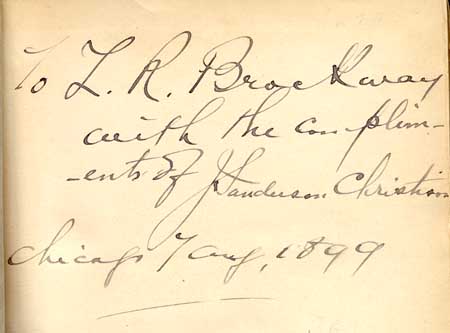 Christison's inscription to Zebulon Reed Brockway in a copy of Crime and Criminals.
On September 1, 1897, the Chicago Inter Ocean reported:
All the attorneys and experts connected with the defense have settled down to the same degree of earnestness and concern as the man they are fighting for. There is a possible excpetion to this, perhaps, in the case of a Dr. Christison, who is connected with teh defense as an expert of some kind. He was rebuked by Judge Tuthill and ordered to change his seat from near proximity to the jury.

Since the trial began Christison has been seated within the railing directly below the jury-box. This has also brought him close up behind the attorneys for the state, and the police officers who have charge of the case. He was taken up sharply by Judge Tuthill when he attempted to argue the matter of changing his seat during the noon recess yesterday. Christison poses as an expert on psychological, facial, and character phenomena. He is very demonstrative in his manner and does the applauding for the defense whenever they score a point. His presence near the jury was objected to...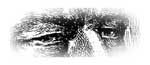 In an August 23, 1897, dispatch for the New York Herald (which was reprinted in the next day's Chicago Times-Herald), Christison offered his impressions of the Luetgert case. Among other things, he wrote:
He is reputed as blunt and sometimes harsh in manner. So far his demeanor since arrest has simply been that of an uncultured man of energetic parts, feeling outraged at his imprisonment and the charge against him.

So far as I can learn he has at no time shown any sign of fear or remorse, nor has he exhibited any noteworthy inconsistencies in word or deed. He is as frash and vigorous to-day as one the day of his incarceration, and just as sanguine of a complete vindication.

The thought of a great crime is not born suddenly except in a delusional state of mind fixed against reason — insanity — or else by provoked passion. Less than an hour before he is supposed to have killed his wife he was seen quietly talking to her.

Is it possible that he had for some time concealed a desire and intention to kill her? Does the alleged crime fit with anything in the character of the man? Has he exhibited anything peculiar, by word or ded, which annot be explained by ordinary experience, and if so, have the peculiarieis been of such a nature as to indicate temproary insanity or a heartlessness to the degree of total depravity? These are pertinent questions.

The points that the state will have to prove are: 1. That Mrs. A.L. Luetgert is dead. 2. That she died by foul means. 3. That A.L. Luetgert, her husband, caused her death.

To prove these points the state has no direct evidence, so that the circumstantial evidence brought forward must be very strong in order to convict...

But circumstantial evidence is very apt to admit of doubt. Men have been hung for crimes they never commited, the supposedly dead person reappearing some time afterward. In some states, as in New York, the corpus delicti must be proved by direct evidence.

In Illinois, however, circumstantial evidence may be sufficient to prove it.
The day after Christison died, the Chicago Tribune published the following article:
A row that reached three undertaking establishments and the Chicago avenue police station resulted yesterday when the body of Dr. J. Sanderson Christison, who was found dead early in the morning, was ordered taken to a morgue at 226 North Clark street.

Two policemen had carried the body to the ambulance from the room lately occupied by the physician at 24 Walton place, when A. Arntzen, an undertaker at 247 North Clark street, appeared. He did not wait for a car, but reached the house by automobile.

"Where are you going to take this body?" demanded Arntzen.

The policemen said that it had been ordered taken to Gavin's morgue by the desk sergeant, Bartholomew Finn.

"Well, my place is nearer," objected Arntzen. "It ought to go there."

The dispute resulted in the patrol wagon, preceded by the automobile, driving to the police station. While the vehicles waited in front the police and undertakers went inside to continue the argument.

"I told the men to take it to Gavin's because you won't take some of the cases we send to your morgue," declared Sergeant Finn.

"But my place is nearer to where the body was found, and it ought to be taken there," insisted Arntzen.

"Your morgue is only half a block nearer than Gavin's," put in a policeman.

"Allen's is half a block nearer than Arntzen's morgue," suggested another policeman.

"Take it to Allen's," said the desk sergeant, and Arntzen and the patrolmen filed out.

Christison, who was known for his study of the relation of crime to insanity, died from gas asphyxiation, either though accident or by suicidal intent. He was heard to enter his room about 1 o'clock in the morning. About 8 o'clock the odor of gas was noticed by Miss Ann Brandolf, the proprietor of the house. The door was opened and Christison was found in an unconscious condition. Before a doctor could reach him he was dead.

One of Christison's favorite theories was that all persons are slightly insane. He said Ivens was not guilty of the death of Mrs. Bessie Hollister, but declared that he had been led to make a confession while under the hypnotic influence of Assistant Chief Schuettler's eyes. He persuaded a Harvard professor to take up the same line of reasoning.

At the time of his death Christison was preparing a book, giving his reasons for believing Billik innocent. He also had another book in course of preparation on the difference between suicidal and murderous wounds.
On May 10, 1908, the Chicago Tribune followed that article with this report:
R.L. Koenig, 412 Oak street, and J.R. Gray, living at the Alexandria Hotel, went to the Chicago avenue (police) station yesterday and said they were the two men who took Dr. J. Sanderson Christison, 24 Walton place, to his home, where he was found dead Friday. The two men found the doctor lying in the gutter at State and Maple streets at 11:40 o'clock Thursday night, apparently under the influence of some drug. They found his address on a card in his pocket and took him to it.
A Cook County Coroner's inquest examined the facts of Christison's death but was unable to determine whether it was an accident or suicide. The jury's verdict states that he died "from asphyxiation due to turning on and inhaling illuminating gas in his (room?) ... From the evidence presented (we?) the jury are unable to determine whether said gas was turned on accidentally or (illegible word)."