Willard M. McEwen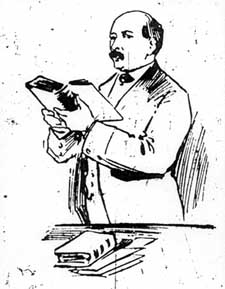 The First Assistant Cook County State's Attorney, who prosecuted the Luetgert trials with State's Attorney Charles Deneen.
On November 7, 1900, the Chicago Chronicle reported:
McEwen will resign soon to go into private practice. He prosecuted the banker cases. E.S. Dreyer, upon whose side was enlisted some of the most astute legal tacticians in the city, now faces the immediate prospect of a term behind the grim walls of Joliet. Mr. McEwen was born in De Kalb county, Illinois, thirty-seven years ago. He attended the public schools of De Kalb and after his graduation taught in a country school. He was graduated from the Union College of Law in this city in 1887. After associating himself with various law firms he entered into partnership with Charles S. Deneen in 1892. Mr. Deneen was a law school classmate. Later Mr. McEwen formed a partnership with F.P. Pease, but when Mr. Deneen was appointed counsel for the sanitary district he took Mr. McEwen in as his assistant. Upon Mr. Deneen's withdrawal Mr. McEwen succeeded him. When Mr. Deneen was elected state's attorney in 1896 he chose Mr. McEwen as his first assistant.
McEwen later became a superior court judge and an authority on corpus delecti law. In 1922, McEwen represented Ida Dorsey when she sued her husband, former Luetgert expert witness George Amos Dorsey, for divorce.
McEwen recalled the Luetgert trials in a January 14, 1924, Chicago Tribune article that compared the case with another one that was in the headlines at the time:
The bane of criminal prosecutors' careers, corpus delicti, may bob up to confound the state in its case against Warren J. Lincoln, self-confessed slayer of his wife...

If Lincoln's statement is to be credited, the bodies of the murder victims were cremated in a furnace. The ashes, it was said, were carried away and burned...

The operation of the corpus delicti provision was discussed in an interview last night by former Judge Willard M. McEwen, generally conceded to be an authority on the subject...

"In the Luetgert case," said Mr. McEwen, "we were able to establish corpus delicti by producing a portion of the body, but even without the human bones, the rings and Luetgert's behavior the night of the murder gave us a strong circumstantial base.

"'Corpus delicti' may be liberally translated to mean 'the body dead by unlawful means.' To satisfy this provision it is not always necessary to produce the body or any portion of it. If, for instance, it can be proved that a man was in existence, that he disappeared under circumstances suggesting murder, and if the circumstantial evidence points with sufficient directness toward the accused, corpus delicti may be established.

"While I am not informed as to the evidence in the Lincoln case, it seems probably that, supplemented by the man's confession, it will be enough to meet corpus delicti requirements, even if no traces of the bodies are found."
The day after McEwen died on August 18, 1927, the following obituary appeared in the Chicago Tribune:
Former Judge Willard M. McEwen, one of the prosecutors in the Luetgert murder case and once a candidate for the Republican nomination for governor of Illinois, died suddenly yesterday at his summer home at Ephraim, Wis.

Heart disease apparently cause death. Mr. McEwen collapsed on the beach near his home and died before medical aid could reach him. He was 64 years old...

In 1902 Mr. McEwen was elected to the Superior bench and served until 1910. He became a candidate for the nomination for governor in 1907, but withdrew. While a judge he heard hundreds of divorce cases. In 1910, after resigning his judgeship, he entered the practice of law with the firm of McEwen, Weissenbach & Shrimski, which was dissolved in 1918. Since then he has practiced alone. A widow and one daughter, Marie, survive him. The body will arrive in Chicago this morning and funeral services are to be held in the chapel at 3834 Irving Park boulevard, tomorrow at 2 p.m. The McEwen home is at 3633 North Springfield avenue.
Drawing: Chicago Daily News, Aug. 24, 1897.